Mandatory Mask and Chloroquine in the Czech Republic - Dr. Darina Krutinová
Prague, Czechia,
20 avril 2020
"Wearing masks is mandatory in the Czech Republic"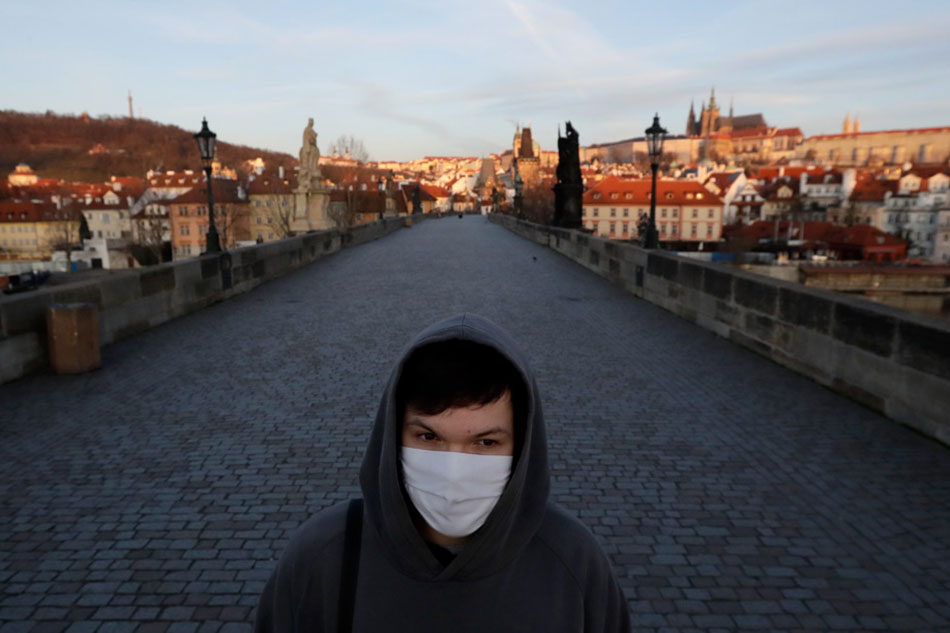 - What is the situation in the Czech Republic regarding the COVID-19 pandemic?
The first three cases were confirmed on the 1st of March 2020 in the Czech Republic. The rapid onset of the epidemic was noted by a critical lack of protective equipment. The first action against the epidemic was taken on the 3rd of March and the 10th of March - it was then announced that all schools were going to be closed the following day.
- On 12th March an emergency was declared with a number of restrictions for citizens and businesses.
- On 14th March, restaurants and many other establishments were closed. At midnight from 15th to 16th of March, the state borders were closed, with some exceptions.
- On 19th March, the obligation to cover the mouth and nose with a veil, scarf or blanket was settled outside everyone´s home.
At the moment - 19.04.2020 - we have done over 168,000 tests, on which we have 6657 people tested positive to COVID-19 and a total of 181 deaths.
We notice today that the growth of infected people is decreasing. Statistically, we have ill patients without serious complications in more than nine out of ten cases. Our medical facilities can by far run out of capacity: they are currently occupied at less than 65 percent.
Many people have lost their jobs or been receiving a partial salary. Therefore, we try to balance the scale and evaluate the life price versus the economic diseases.
It is the first time in history that Czech people have to stay at home and do nothing to save their nation: be active and beneficial by being passive, but not having work and hence money. After 1 month following all these restrictions, the Government of the Czech Republic has prepared a timetable for the reopening of the country in 5 steps, in order to let people work again and relaunch the economical system. We can only hope it will work out without the need to use the rescue-brake due to a possible and prompt increase of positive people to COVID-19. Only time will show us if we took the right solution or not.
Are protective mask and test used massively in the Czech Republic? Do you think these are the most efficient ways to fight this pandemic?
Wearing a mask is mandatory in the Czech Republic since a government's decision of 19th March. This also applies to children from two years old and generally to any people moving and staying in places outside their main residence. I believe these measures are helpful and useful. Indeed, it is important to remind people that the mask does not serve to protect us personally, as the World Health Organization (WHO) mistakenly interprets, but is here to protect people around you. As a result, wearing a mask limits the spread of aerosol by 80 to 90%! This shows to be an indisputable indication. Unfortunately, the WHO recently issued measures and actions that are constantly being modified and prove themselves to be more political than real protective measures. For example, they lowered the parameters to Class 3 respirators and reduced them to Class 2 in many cases. Also, we notice a lack of protective equipments around the world, meanwhile, we notice in Asian countries how surgical masks are undoubtedly playing an important role there. Although this measure is not so painful, it became paradoxical in a way that Czech people now began to make handmade masks as a fashion element together with its original protective purpose.
Dr. Raoult Protocole (Chloroquine & Azythromicine) is used in the Czech Republic to cure patients infected with COVID-19. Could you tell us more about that? 
Results and data are very impressive in Marseille, they had 91% of recovery and a massive testing strategy. Plaquenil is a drug that have been mentioned most frequently in connection with the treatment of COVID-19 in the Czech Republic. According to the Institute of Medicine, this drug with the possibility of transfusing blood plasma from cured patients, appear to be the most effective so far. However, all four options are still in experimental phase. Although they are approved drugs, they have not been developed specifically to fight the new coronavirus and there is still insufficient evidence that they work in the same way for all patients. So only time will show us which treatment will be the best and the most universal.
- When Czech Republic will re open its borders and get back to normal Life ?
I cannot imagine that travel to the whole world would be suddenly possible. I don´think it would be wise to release overnight travel to the whole world without restrictions at this time, when we know that in many countries the situation is unpleasant. It could create a second or third wave of the pandemic Given the situation in other countries, there would be a risk of re-introduction of coronavirus
infection into the Czech Republic and public health needs to be protected. On the other hand Deputy Minister of Health - last Friday - outlined the possibility of summer holiday abroad, for example, on the Adriatic. However, it would be necessary to ensure not only the consent of the target country but also the transit countries, and to lay down conditions for both holiday and return, such as a negative test for covid-19. Everything will depend on the current epidemiological situation in the summer, and it should be only possible to travel to countries where the risk of infection
is similar to that in the Czech Republic.
The clinic where I work has more than 80 percent of patients from abroad. It would be good to allow travelling abroad for a medical purpose at least. For many of my patients, the treatment is important to do right now and longer delays of treatment could have an irreversible impact from a medical point of view.
Italy, Spain, France, Sweden... one Europe, Many direction. Should we change the rules to bring a new efficient strategy and get ready for next round ?
The new strategy will be based on the results of analytical studies when we have the necessary datas. I hope we will have them soon as well as the miracle effective vaccine.
This vaccine will be very important and I believe that today, with the techniques at our disposal, companies could have it ready much sooner than it is usual. In my opinion we have to learn to live, work and even enjoy new life with Covid-19 around. The next round could be much worse if we don't adapt fast at this phase of the pandemia.
Dr. Darina Krutinová
Praga - Czech Republic